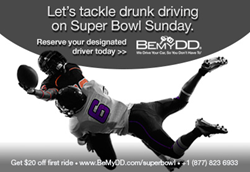 Los Angeles, California (PRWEB) January 22, 2015
BeMyDD (Be My Designated Driver), the nations largest designated driver service, today announced two new Super Bowl promotions. The company will provide all new customers who book a reservation for Super Bowl Sunday US$ 20 off their first reservation and award one lucky new customer a free designated driver for a month.
To be eligible for the award, new customers must open an account and register a credit card on file (no charges will be levied) at http://www.bemydd.com/superbowl. The US$ 20 discount will be automatically credited when the new customer books their first reservation. The Designated Driver for a Month award winner, chosen randomly from all new customer accounts, will be notified via email and announced on the companys social media pages on February 2, 2015. The prize is limited to four nights in one month, each with a four-hour time limit.
Super Bowl Sunday continually ranks as one of the most dangerous times of the year in terms of DUI-related deaths. According to the National Highway Traffic Safety Administration, 43 percent of all traffic fatalities on Super Bowl Sunday (and the early hours of the following morning) in 2012 were caused by drunk driving, compared to an average of 31 percent for the year as a whole.*
In addition, depending on state law, an individual may be responsible for injuries a guest suffers as a result of alcohol being served at their party. An individual may also be responsible if a guest hurts someone else or if an injury or accident happens away from the property, such as an accident caused by drunk driving.
We want to support people having fun in a socially responsible way by using a designated driver if they are consuming or serving alcohol at a Super Bowl party, said Arthur Simanovsky, BeMyDD president and CEO. With the availability of a service like BeMyDD, all it takes is a little planning ahead to ensure a fun and safe time.
BeMyDD offers an alternative to ridesharing services such as Uber and Lyft, with a range of affordable services where professional, experienced chauffeurs operate the customers own vehicle. Services are priced at pre-determined rates free of surge pricing or other surprise fees.
ByMyDD offers a Personal Driver Service, where a professional driver arrives at the clients home and chauffeurs them anywhere they want go using the clients own car. Making multiple stops if necessary, the driver waits in the car and takes the client back home when they are ready. The Personal Driver Service costs US$ 14-US$ 19.50/hour, depending on geography, and has a three-hour minimum.
BeMyDD offers an Event Service called The Peace of Mind Plan that can be used by hosts of Super Bowl parties. Teams of drivers are on-site to take unlimited people (and their cars) home. This service costs US$ 45-US$ 53 per team, per hour. BeMyDD also offers a Pick-Up Service on a first come, first served basis; however, availability is limited on Super Bowl Sunday, so its best to book ahead of time. Reservations for all services can be made at BeMyDD.com, by calling +1 (877) U BeMyDD (823 6933), or by downloading and using the mobile app (iOS and Android).
The average age of a BeMyDD driver is 51, and the company requires every driver to have at least 10 years of professional driving experience, complete an in-person interview and undergo very comprehensive background checks. Many drivers hold a commercial drivers license (CDL). BeMyDD provides primary insurance while operating its customers cars with comprehensive collision coverage, which includes theft protection as well as a US$ 2 million commercial auto policy that covers its customers vehicles and rental cars if a BeMyDD referred driver is at fault.
To ensure a white glove customer experience, BeMyDD operates a U.S.-based customer service center that clients can contact to make reservations, confirm details, and ask questions about the service or a driver. The service center operates 9 AM to midnight EST Sunday through Thursday, and 9 AM to 2 AM EST Friday and Saturday. Customers are also able to request specific drivers whom they have hired in the past with BeMyDD. Additionally, women are able to request a female driver if they so prefer.
About BeMyDD
Founded in 2010, BeMyDD (Be My Designated Driver) is the nations largest designated driver service, currently operating in 76 markets in 31 states. This convenient, safe, reliable and affordable alternative transportation service provides a chauffeur at a discounted rate by driving the customer's automobile. Professional, experienced drivers are fully background-screened, interviewed and insured by ByMyDD and wear formal business attire. The company has national partnerships with leading liquor and wine companies such as C